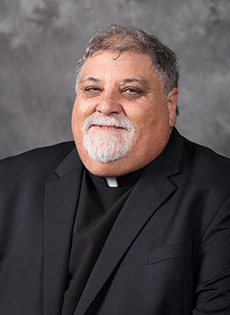 José Joaquín Espino
Born April 6, 1956 in Guantánamo, Cuba, Father Espino is the third of six brothers and sisters. He came to Miami in 1961 with a sister and older brother (now deceased) as part of the Pedro Pan program, which ultimately spirited more than 14,000 children out of Cuba.
Father Espino lived with relatives in Brooklyn, N.Y., and Pennsylvania before being reunited with his parents on Valentine's Day, 1966. That's when I met my littlest sister, who was born two years after I left Cuba. The family moved near St. Benedict Parish in Hialeah, where he attended public schools. He entered the seminary in 1976 and was ordained a priest for the Archdiocese of Miami in 1983.
He has served at Corpus Christi in Miami, Sacred Heart in Homestead, St. Ann in Naranja, St. Martin de Porres in Leisure City, Holy Family in North Miami and as archdiocesan director of Encuentros Juveniles and Youth Ministry. From 1999 to 2004 he returned to Guantánamo, Cuba, his hometown, to work as a missionary where he served as founding pastor of the San José Obrero Parish in the city of Guantánamo, and of Nuestra Señora de la Asunción in Baracoa.
After 13 years as pastor of San Lázaro Parish in Hialeah, Archbishop Wenski named him the fifth Rector of the National Shrine Ermita de la Caridad on February 1st, 2022. He also currently serves as archdiocesan liaison with Caritas Cuba.
What he did before becoming a priest:
He worked part-time and during the summer delivering newspapers, cleaning up in a pizza parlor, pumping gas, bagging groceries and making deliveries.

When he knew he wanted to be a priest:
About a year-and-a-half after graduating from high school, while studying pre-med at Miami Dade College. "I had a conversion experience. I saw the need for priests."

What he would be doing if he had not become a priest:
"I always wanted to be a doctor or in medicine." He still keeps up with topics in bioethics.

His greatest joy:
"Being able to be present to people in moments of need. You can make a difference in people's lives."

Most difficult aspect of being a priest:
"Being open to the person that you have before you, being non-judgmental. We have a tendency to judge and to solve and give the correct answer right away. We just have to listen and walk with people."

His description of the ideal priest:
"There's no such thing as an ideal priest, in a sense. The ideal priest is the man who is able to be comfortable with himself, transparent before God and others, and be there for others."

A priestly stereotype that should be discarded:
"Those priests are know-it-alls and solve-it-all. Unfortunately, sometimes priests believe that."

His harshest critic:
"Myself."

Who was most surprised by his vocation:
"My brothers and sisters - they know me. You're never a prophet in your own home." One girlfriend told him his decision was "a waste of brains."

What the seminary did not prepare him for:
"The burden of the bills and the building fund and this whole reality that takes energy away from pastoral work."

What he collects:
Postcards from Guantánamo: "I discovered eBay."

Hobbies:
Cooking: "In Cuba, I cooked for myself for 5 years. My grandfather used to cook and my dad cooked. It's a way of relaxing."

Thing he most fears:
"Not responding to God's will, and not confronting my fears."

Thing he is grateful for:
"God's grace working. I turned out much better than I should have."

Person he most admires:
For his example of perseverance: Charles de Foucauld, "a strange priest who founded a community that nobody joined." Today, that would be the Little Brothers of Jesus Caritas. De Foucauld is also the inspiration behind a priestly fraternity, Jesus Caritas, to which Father Espino belongs.

On going to Cuba:
When he arrived, the newly-created Diocese of Guantánamo had five priests and two parishes. In five years, it grew to nine parishes and 12 priests and was on the verge of ordaining its first diocesan priest. "The work of the priest is the work of the priest wherever you go. You build up community."
Nacido el 6 de abril de 1956 en Guantánamo, Cuba, el Padre Espino es el tercero de seis hermanos y hermanas. Llegó a Miami en 1961 con una hermana y un hermano mayor (ya fallecido) como parte del programa Pedro Pan, que finalmente sacó a más de 14,000 niños de Cuba.
El padre Espino vivía con parientes en Brooklyn, N.Y. y Pensilvania antes de reunirse con sus padres el día de San Valentín de 1966. Fue entonces cuando conoció a su hermana menor, que nació dos años después de que él saliera de Cuba. La familia se mudó cerca de la parroquia de St. Benedict en Hialeah, donde asistió a escuelas públicas. Ingresó al seminario en 1976 y fue ordenado sacerdote para la Arquidiócesis de Miami en 1983.
Ha servido en Corpus Christi en Miami, Sacred Heart en Homestead, St. Ann en Naranja, St. Martin de Porres en Leisure City, Holy Family en North Miami y como director arquidiocesano de Encuentros Juveniles y Pastoral Juvenil. De 1999 a 2004 regresó a Guantánamo, Cuba, su ciudad natal, para trabajar como misionero donde ejerció como párroco fundador de la parroquia San José Obrero del Reparto Obrero de la ciudad de Guantánamo y de Nuestra Señora de la Asunción en Baracoa.
Después de 13 años de párroco de la parroquia San Lázaro en Hialeah, el Arzobispo Wenski lo nombró quinto Rector del Santuario Nacional Ermita de la Caridad el 1ro de febrero de 2022. Actualmente también se desempeña como enlace arquidiocesano con Caritas Cuba.
Lo que hizo antes de convertirse en sacerdote:
Trabajó a tiempo parcial y durante el verano repartía periódicos, limpiaba una pizzería, cargaba gasolina, embolsaba comestibles y hacía entregas.

Cuando supo que quería ser sacerdote:
Alrededor de un año y medio después de graduarse de la escuela secundaria, mientras estudiaba pre medicina en el Miami Dade College. "Tuve una experiencia de conversión. Vi la necesidad de sacerdotes".

Lo que estaría haciendo si no se hubiera hecho sacerdote:
"Siempre quise ser médico o en algo relacionado con la medicina". Todavía se mantiene al día con los temas de bioética.

Su mayor alegría:
"Ser capaz de estar presente para las personas en momentos de necesidad. Puedes marcar la diferencia en la vida de las personas".

Aspecto más difícil de ser sacerdote:
"Estar abierto a la persona que tienes delante, no juzgar. Tenemos una tendencia a juzgar y resolver y dar la respuesta correcta de inmediato. Solo tenemos que escuchar y caminar con la gente".

Su descripción del sacerdote ideal:
"No existe tal cosa como un sacerdote ideal, en cierto sentido. El sacerdote ideal es el hombre que es capaz de estar cómodo consigo mismo, transparente ante Dios y ante los demás, y estar ahí para los demás".

Un estereotipo sacerdotal que conviene descartar:
"Que los sacerdotes son sabelotodos y solucionadores de todo. Desafortunadamente, a veces los sacerdotes creen eso".

Su crítico más duro:
"Yo mismo."

A quién le sorprendió más su vocación:
"Mis hermanos y hermanas, ellos me conocen. Nunca eres un profeta en tu propia casa". Una novia le dijo que su decisión era "un desperdicio de cerebro".

Para lo que el seminario no lo preparó:
"La carga de pagar facturas y el fondo de construcción y toda esta realidad que le quita energía al trabajo pastoral."

Lo que colecciona:
Postales de Guantánamo.

Aficiones:
Cocinar: "En Cuba cociné para mí durante 5 años. Mi abuelo cocinaba y mi papá cocinaba. Es una forma de relajarse".

A lo que más teme:
"No responder a la voluntad de Dios y no confrontar mis miedos".

Cosa por la que está agradecido:
"La gracia de Dios obra. Salí mucho mejor de lo que debería".

Persona que más admira:
Por su ejemplo de perseverancia: Charles de Foucauld, "un sacerdote extraño que fundó una comunidad a la que nadie se unió". Hoy son los Hermanitos de Jesús Caritas. De Foucauld es también el inspirador de una fraternidad sacerdotal, Jesús Caritas, a la que pertenece el Padre Espino.

Sobre ir a Cuba:
Cuando llegó, la recién creada Diócesis de Guantánamo contaba con cinco sacerdotes y dos parroquias. En cinco años creció a nueve parroquias y 12 sacerdotes y ordenó a su primer sacerdote diocesano. "El trabajo del sacerdote es igual dondequiera que vayas. Construir comunidad".